SPONSORS

Elite Promotions has various levels of sponsorships and many very creative ways to enhance your business exposure while being apart of some of the most exciting boxing and mma events within florida.  With events taking place all across florida; including professional boxing, professional mma, amateur mma, and amateur muay thai.  Exposure from non televised events to; World Wide Web broadcast, Comcast cable, Fox Sports, ESPN, HBO, and Showtime.  The cost of each package varies so please contact us today and let's put a sponsorship package together for your business.

Most of our events are soldout, and as you probably have noticed, are always frequented by many celebrities and professional athletes.  This is always a favorite for the fans as well as the press.  It's taken us since 2000 to develope the following and press coverage we have today.  By producing more fights in florida than any other promotion company we have created a huge following.  So let's sit down and discuss ways to increase your exposure too.

JM LEXUS
LAMBORGHINI PALM BEACH
CORAL CADILLAC HUMMER
SOUTHERN WINE & SPIRITS
BROWNS DISTRIBUTING
BRU'S ROOM
BOCA TANNING CLUB
US ARMY
DEMENTED GRAPHICS
FIST ARTS
PALM BEACH BOXING
ANGELO DUNDEE'S 5TH STREET GYM
KNOCKOUT ZONE MIAMI
OTM FIGHT SHOP
KRUSH MODELS
KESSLER SPORTS MEDICINE CENTER
COAST TO COAST CUSTOMS
TABOO
INK DADDY'S
MMA2THEMAX
FIGHTCLUBHDTV.COM
PRONTI'S ITALIAN KITCHEN
KITCHEN 305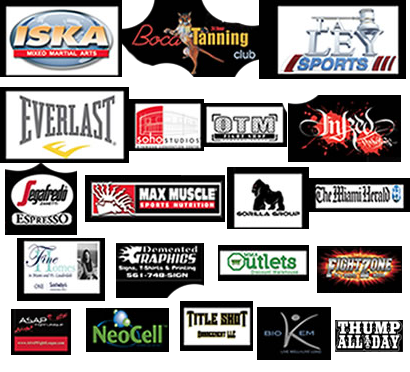 The Sponsors & The Fans are the backbone of our events, without each we would not exist.  Thank you very much for supporting Florida fighters!

Interested in becoming a SPONSOR ???
Please contact us : Jeff@elitepromotions.info